Data Story-Telling: Telling Your Story Through Data Analytics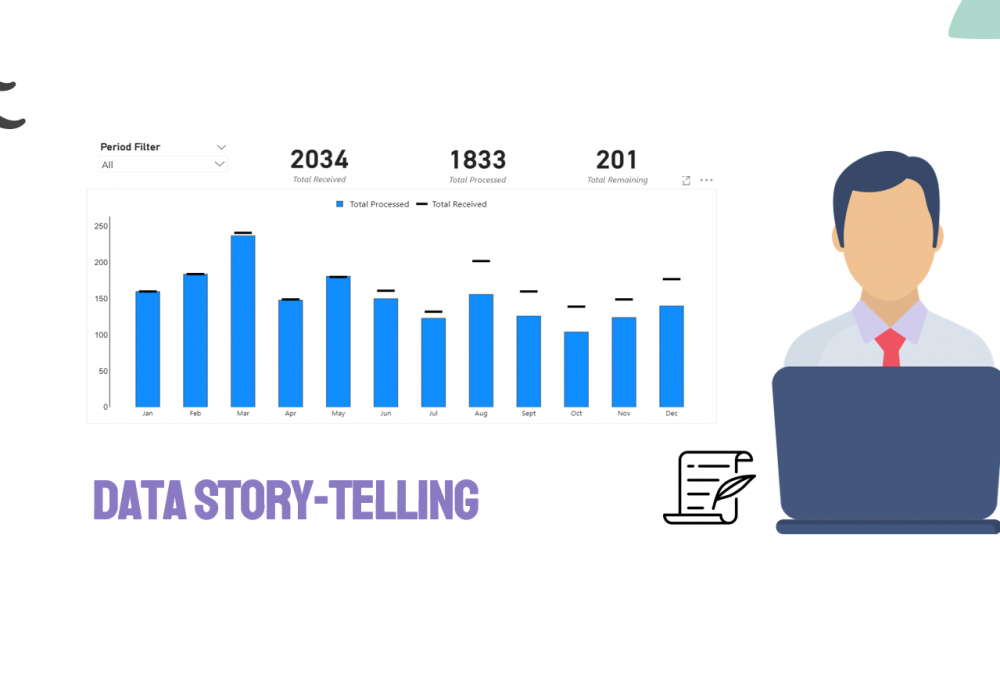 In this blog post, we are going to introduce you to an example of data story-telling. Data Story-Telling is a methodology to present a story by analyzing data as proof to support your story. The proof of story can be a dashboard, graph, or any visual to easily for judgment.
HYPOTHESIS
Imagine that you are an IT manager. Your team receives tickets, or technical issues, from employees. In May last year, there were two people quitting your team. You have heard complaints from the remaining employees about doing more work.
You are wondering if you should hire more people. First, you want to understand what impact the departure of employees has had on your team's overall productivity. You plot the monthly trend of incoming tickets and those processed over the past year. You see that there is some evidence your team's productivity is suffering from being short-staffed and now want to turn the quick-and-dirty visual you created into the basis for your hiring request.
1. Revise your IT-ticket visual to meet the objective in the above-mentioned scenario.
2. Construct your story's target and storyline.
3. Present your result in a storytelling manner.
Dataset
| | | |
| --- | --- | --- |
| Ticket Type | Month | Number |
| Received | January | 160 |
| Received | February | 184 |
| Received | March | 241 |
| Received | April | 149 |
| Received | May | 180 |
| Received | June | 161 |
| Received | July | 132 |
| Received | August | 202 |
| Received | September | 160 |
| Received | October | 139 |
| Received | November | 149 |
| Received | December | 177 |
| Processed | January | 160 |
| Processed | February | 184 |
| Processed | March | 237 |
| Processed | April | 148 |
| Processed | May | 181 |
| Processed | June | 150 |
| Processed | July | 123 |
| Processed | August | 156 |
| Processed | September | 126 |
| Processed | October | 104 |
| Processed | November | 124 |
| Processed | December | 140 |

EXPERIMENT
We can do an experiment on the above hypothesis which will describe below:
TARGET
Audience: IT Director, HR Executive, Board of Directors
Objective: Request to hire more staff to boost the work productivity
Evidence: Demonstrate the proof of the monthly trend of received and processed tickets with a chart
STORYLINE
Step
Outlines
Context

We at the IT department observed a pessimistic effect of employee resignation (2 staff) and complaints from other employees due to task overload in May last year
We literally want to deliver tasks on time to meet the deadline and obtain achievement

Obstacles (Challenges)

Staff feel unsatisfied and lack motivation toward their career
Impact overall work productivity, tasks overdue, no achievement

Struggle (Conflict)

We were delighted trying to solve this issue to encourage staff to gain more work productivity
We thought about recruiting more employees in order to support daily task operations
We want to understand the impact of departure staff on the overall productivity
To test whether we could identify the issue or not, we decided to plot the monthly trend of received and processed tickets over the past year

Resolution

The result showed that there was a discrepancy starting from June (June to July displays a small discrepancy, Aug and Dec shows a big discrepancy)
As per observation from Jan to May, we could be able to process 910 out of 914 tickets which is equivalent to 99.56% (Processed), 0.44% (Remaining)
However, from Jun to Dec, we could only process 923 out of 1120 tickets which is equivalent to 82.41% (Processed), 17.59% (Remaining)

Lessons / Recommendation Actions

The chart illustrates the actual amount of processed tickets compared to received tickets.
Provide benefits/rewards and certificate of appreciation
Please kindly approve the request to recruit more staff to enhance the overall work productivity, support daily operations, and meet the expected deadline for all related tasks

MONTHLY TREND OF RECEIVED & PROCESSED TICKETS
---
---